Švýcarsko, 2013, 48 min
Hans-Jurg Pffaf
24.01.2014 18:35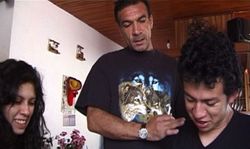 After having worked for 18 years in the U.S., the "sans-papier" Richar returns to his country Ecuador with his new American wife. Although divorced from his former wife, he is still very attached to his three children.
The reunion with the family and with old friends shows in a personal way the tensions as well as the hopes and the courage to face the difficult reality of a migrant. The filmmaker, to whom Richar is linked by a friendship since an anthropological field reasearch 30 years ago, follows him during the first weeks of his return to his village in the Andes.
Hans-Jurg is born in Zurich, Switzerland. He studied cultural Anthropology in Zurich and Ecuador where he met the main character of the movie. He has made various documentaries.
Dialogues: Spanish, English, subtitles: English, Czech
Production: Prodok film, Zurich
Director, camera: Hans-Jurg Pffaf