Indonésie, 2012, 65 min
J.de Séve, K.Tjong
25.01.2014 14:00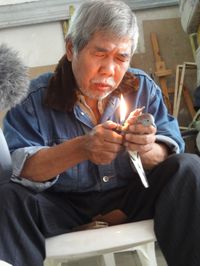 Two filmmakers dive into an ancient rite of manhood in Islamic Java – the tender and raucous sport of the singing doves, the Indonesian Nascar. When General Zainuri announces The National Perkutut Championship, thousands of Muslim men arrive at the grounds. Seven hundred poles stand in the center. Men hoist their doves – perkutut – seven meters up and dangle them ina sea of colorful cages.
A team of judges passes trought the forest of tall posts straining to discern the birds magical coos. If the judges are impressed they score a bird´s dong by tacking a small flag to the pole. After three hours a winner is declared. Winning perkutut sell for tens of milion rupiahs – tens of thousands of dollars.
Jim de Séve teches film production at Union College in Schenectady. Prior to that, he was an instructor at Film Video Arts in NYC for ten year. He sists at the board of Media Alliance, a non-for-profit who operates a sanctuary for independent media.
Kian Tjong was born and raised in Indonesia and he has lived in the US since 1997 when he came as a Fujitsu MBA scholar at the University of Hawaii and Japan-America Institute of Management Science.
Dialogues: Indonesian, subtitles: English, Czech
production, directors, camera: Jim de Séve a Kian Tjong
Launching (selection):
Taiwan Intenational Ethnographic Film Festival, 2013
Royal Anthropological Institute Film Festival, Edinburg, 2013
Festival International du Film Ethnographique du Québec, 2013
Moscow International Festival of Visual Anthropology, 2012
Kazan Festival of Muslim Cinema, 2012