Norsko, 2013, 41 min
Konrad Pilot
25.01.2014 21:05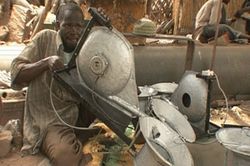 At the blacksmith market in Maroua, in the Far North region of Cameroon the hammers clang all day long. Here the local blacksmiths turn scrap iron into objects for everyday use. Car bodies become wheelbarrows, truck wheels are transformed into ploughs and smaller pieces of scrap iron end up as spoons. The film is a portrait of Abakar, a young creative blacksmith pursuing his dream to medernize his workshop and to established a blacksmith enterprise. Following Abakar at the work at his workshop, at home with his family, at the meetings and exhibitions movie presents a persistent struggle of an individual to fulfill his dreams of successful enterpreneurship, by bringing seemingly unusable pieces of iron back to life.
Konrad Pilot was born in Poland. He studied Social Anthropology with Philosophy and religion Studies as minors at the LMU in Munich, Germany and Visual Cultural Studies in Tromsø, Norway. Noise That Brings Money is his first film.
Dialogues: French, Fulfulde, subtitles: English, Czech
Production: Visuelle kulturstudier, University of Tromso, Norway
Director, camera: Konrad Pilot
THE WORLD PREMIERE!