Peru, Velká Británie, 2013, 24 min
J. Meirinhos
31.01.2015 19:15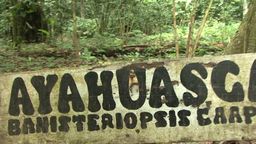 "Afluentes" are small rivers or streams that flow towards a bigger river or lake which, in this case, symbolize Ayahuasca. An ancient psychedelic brew that changes peoples' perception and brought together, in this film, a teacher, a traveller and a desperate man to the same place. This documentary focuses on the increase of spiritual tourists in the Peruvian amazon, modern shamanism and the healing potentials of traditional plant medicine.
Director: Joao Meirinhos
Production: Granada Centre for Visual Anthropology, Manchester
Language of dialogues: Spanish
Language of subtitles: English, Czech

BA in Social Sciences and Cinema in Lisboa, MA in Visual Anthropology and Ethnographic film in Manchester, fieldworks in Portugal, Burkina Faso and Peru.