Norsko, 2013, 28 min
Tanel Saimre
24.01.2014 20:55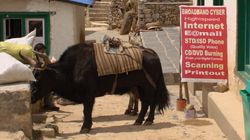 Internet and telecommunications have penetrated the world to a degree of not even being amazing any longer. We take the ability to connect to people and machines on the other side of the planet for granted. How does this technology adapt to a mountain village in Nepal, and how does the mountain village adapt itself to it?
"The High Cybercafe" depicts the life of two young Nepalis working in a cybercafe in Namche Bazaar, on the trail to Mount Everest. We see their working day and take a side trip to the computer lesson at the local elementary school. We witness the change as it happens.
Tanel Saimre is an Estonian researcher trained in Archaeology (MA from Tartu University, Estonia) and Visual Anthropology (M Phil, Tromsø University, Norway). He is interested in the technological aspect of human existence. He has worked on positions relating to archaeology, filmmaking, software development and many others.
production, director, camera: Tanel Saimre
dialogues: English, Nepali
subtitles: English, Czech
Launching:
NAFA International Film Festival, Tromso
Anthropological Film Festival 2012 in Ho Chi Minh City, Vietnam
Worldfilm 2013 in Tartu, Estonia