Česká republika, 2013, 28 min
Ladislav Švec
25.01.2014 15:50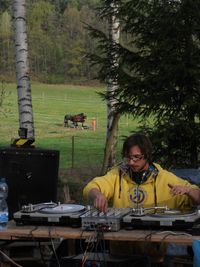 Original purpose of this film was like an attachment to bachelor´s work focused on freetekno subculture and phenomenon of freeparty in the context of Czech Republic area. The main goal is exposed an emic point of view on freeparty to the readers and specatators. The other aim is attempt to explain a certain schism in freetekno czech scene which is caused by influence of economic tendency on the culture industry. There is a connection with desintegration of ideas based on popularization (became popular among the masses), relaxation and last but not least self-realization.
This film is first project of talented anthropologist, who approached to visual anthropology at his "alma mater" University of Pardubice. At the same university he is now attending master program.
Dialogues: Czech
Production: University of Pardubice, CZ
Director, camera, edit: Ladislav Švec