Norsko, 2013, 41 min
Lamtur Tanlaka Kilian
24.01.2014 21:50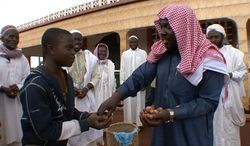 "Together as one" shows the social use of kola nut in Nso´ society. Nso´ is an ethnic group in the North West region of Cameroon. The Nso´ population counts Christians, Muslims and followers of traditional religious beliefs.
This film shows what a thing, a nut or a natural resource can mean to people in Nso´ society. Kola nut is an item around which the feeling, experience, sense, and lived "reality" of belonging, togetherness, being together, unity, oneness, friendship and peace is being expressed. The kola nut thus play an important role in bringing very diverse people together, irrespective of their religion, village, quater, or thoughts. In this sense, kola nut brings about a feeling of togetherness, felowship and belonging to a group.
Lamtur Tanlaka Kilian from Cameroon has diploma from History from the University of Ngoundere in Cameroon and Master in Visual Cultural Studies from teh University of Tromsø , Norway.
Dialogues: Lamnsko language, subtitles: English, Czech
Production: Visuelle kulturstudier, University of Tromso, Norsko
Director, camera: Lamtur Tanlaka Kilian
AWARD of the XXII International Festival of Ethnological Films in Belgrade, Serbia, 2013