Velká Británie, 2013, 25 min
Sophie Wagner
25.01.2014 20:10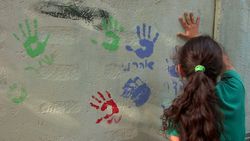 On a small hill in the north of Israel the members of a religious kibbutz, a community of artists and an Arab village – who share a politically fraught history including losing homes and reclaming identity – live as neighbours in a hillside. Although villagers of the three communities do not hold many narratives in common, they do share an understanding of the power od mastering them. The way in which each story, and they are often conflicting ones of victim-hood and guilt, pride and wrongdoings, contains the other without neccessarily relating to it, laid bare a sense of unavoidable inter-subjectivity- This film is an attempt to communicate alternative points of views to the often quite stereotypical imagery we, in central Europe, are bound to perceive via dramatic media reports on the situation in Israel. We follow people´s lives in a shared enviroment and begin to understand, that individual identifications to rarely match up with official categories, which are deployed by state sponsored narratives. The governing of those is a powerful tool – therefore the creation of contemporary, shared, narratives of land and people is a politically meaningful act. On Common Ground points to the question if, and how, this can have an effect in a country that is divided within and under constant pressure from the outside.
Sophie Wagner graduated from cultural and social anthropology at the University od Vienna. Now, she is currently finishing her second MA in the Centre of Visual Anthropology at the University of Manchester. She is also working for the Ethnocineca – Vienna´s documentary and ethnographic film fest.
Dialogues: English, Hebrew, Subtitles: English, Czech
Production, director, camera: Sophie Wagner
THE WORLD PREMIERE!