Česká republika, 2013, 28 min
Vladimír Turner
25.01.2014 17:00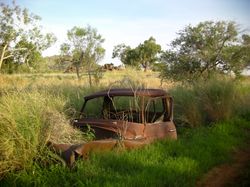 The film is poetic portrayal of a young woman who, eager to be an active citizen, is trying to come to terms with a complicated history of the continent. Alana Hunt is a curator in Aboriginal community art center. White employees work with Aboriginal artists who tell the history of the Aboriginal nation Giya throught art. Alana tries to help others in all possible ways which makes her more of a social worker and a close friend of the local people. The complicated postcolonial situation in Australia forces her to the question the client-based approach ant the actual contribution of the white people to the Aboriginal community.
Vladimír Turner graduated from Audiovisual Studies on Film and Television Faculty in Prague and Intermedial communication on Academy of Arts, Architecture and Design in Prague. He attended study in Buenos Aires, Valencia and Australia. He oscillates between documentary, art in public space and activism. You can see his works from all over the world on the streets, screens and galeries.
dialogues: English, subtitles: Czech
Production, director, camera: Vladimír Turner