Rakousko, 2013, 29 min
Martin Zinggl
24.01.2014 20:10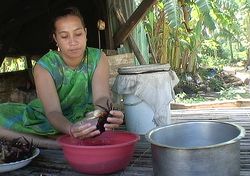 Toku Fenua takes us on an extraordinary journey into the South Pacific and offers a glimpse of life on the remote island of Niulakita in Tuvalu. Niulakita is the smallest, most isolated inhabited island in the world with only 47 Tuvaluans living on 0,4 square kilometres. The director spent several month in this island doing an anthropological fieldwork. Toku Fenua lets us closely participate in the daily routines of three islanders; their dreams and concerns. It also shows the problems that people in such a harsh enviroment are exposed to.
Martin Zinggl, born in Vienna, studied social and cultural anthropology and journalism. He resides as an author and film maker in Vianna and Barcelona and he is currently working in the publication of his first non-scientific book about Tuvalu.
Production, director, camera: Martin Zinggl
Dialogues: Tuvalian, English
Subtitles: English, Czech
Launching (selection):
10th Eyes and Lenses, Warsaw, 2013
Ethnocineca 2013, Vienna
Pacific Islands Festival 2013, Basel