Česká republika, 2013, 10 min
P. Ďurinová, P. Burzová, J. Majer
25.01.2014 15:25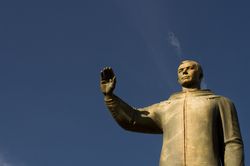 Stone Guests is an ethnographic micro-study based on 15 interviews with inhabitants and visitors of Karlovy Vary as well as city representatives and historians. Our goal was to identify changing attitudes to the symbols of socialist past in a city with significant Russian presence. We were interested in emic explanations regarding the changing symbolic and material landscapes of Karlovy Vary. At the level of city administration, this film offers an example of post-socialist selection of appropriate (post-)political symbols.
This film was produced during Summer School of Ethnographic Filmmaking in Žlutice.
Paula Ďurinová is Slovak documentarist based in Bratislava, she has directed several documentary films and founded the Living documentary association. Petra L. Burzová is a member of Centre for Visual Ethnography and has been focusing on research in political science and cultural anthropology. Jiří Majer is anthropologist concentrating on the discourses of mental disorders. He has been doing his field research in Indonesia.
dialogues: Czech, Russian, subtitles: english
production: Studio vizuální etnografie SVIET, katedra antropologie, FF ZČU
directors, cameras: P. Ďurinová, P. Burzová, J. Majer