England, 2012, 24 min
Chloe Symonds
25.01.2013 22:40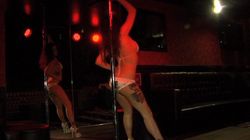 What´sa nice Girl Like YOu doing in place like this? At a time when strippers are alternately viewed as victims of a patriarchal society or as ampowered feminist icons, this film follows two exotic dancers as they reflect upon their experiences of the industry, and contemplate how their job has affected their identities, touchign upon issues of gender, they body, and self hood.
Chloe Symonds having studied Social Anthropology as an undergraduate. She received the Arts and Humanities Research Council Scholarship to undertake a Master´s degree studying Visual Anthropology at Manchester University´s Granada centre.
Director: Chloe Symons
Production: Granada Centre for Visual Anthropology
Language of dialogues: English
Language of subtitles:-