Belgium, 2011, 15 min
Petar Veljacic
28.01.2011 22:40
Culturally, we are all governed to live in and reproduce two-gender societies, taking a gender role "naturaly" assigned by biological sex. Some discoveries disagree.
Director, Production, Camera, Edit: Petar Veljacic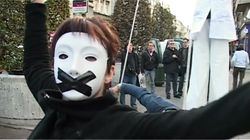 Petar was born 1979 in Aleksinac, Yugoslavia. Graduated at the University of Belgrade, Faculty of Philosophy, Department of Ethnology and Anthropology on a topic History and perspectives of Visual Anthropology . His film education started in film school of Academy Film Center in Belgrade and further developed through various productions in the field of visual anthropology and observational filming. His video activist work begun in Brussels, where he is living and working since 2009.
Language of dialogues: English, French
Language of subtitles: English