Czech Republic, 2010, 57 min
Tomáš Kubák
29.01.2011 14:40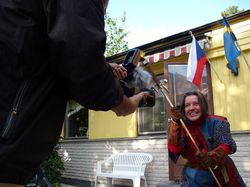 This documentary film is an insight into the lives of eight Czech families or individuals living permanently in Sweden. What has this country given them or taken away? What are their views on leaving Czechoslovakia and living in the North after forty years? How do they and their children who were born here perceive Sweden and the Swedish society? The film does not only peek inside the Czech families but also reveals the atmosphere of Swedish towns and villages and tinges everything with original Czech and Swedish music.
Director, camera, edit: Tomáš Kubák
Tomáš Kubák is a typographer, cameraman and director of travel films. He is cooperated with International Czech Club and make documents about Czech abroad.
Production Martina Fialková, Mezinárodní český klub,o.s., Czech Republic
Language of dialogues: Czech
Language of subtitles: No subtitles