Russia, 2008, 26 min
Ivan Golovnev
29.01.2011 17:20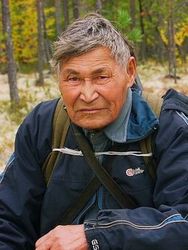 This film takes us into the world of old man Peter Sengepov, tha last surviving Shaman of the Kazym River, who lives alone in the depths of the Siberian taiga. The region of the Khanty people is the basic source of oil recovery in Russia. About 70 percent of all Rusian oil is extracted here. The oil companies actively buy huge territories in the North of Siberia. Indigenous people are compelled to leavethese places, their own patrimonial territories, and do a modern civilization gradually absorbs an ancient culture.
Director, Camera: Ivan Golovnev
Was born in 1978. Graduated at the Omsk State University. In 2002 finished college at the Sverdlovsk Film Studio in Ekaterinburg, department of directors of cinema and TV. In 2005 finished the Highest Courses of Film Writers and Directors in Moscaw. Winner and participant of the international film festivals and film projects.
Production: Ethnographic Bureau Studio, Ekaterinburg, Russia
Edit: Yuri Yatsencko
Language od dialogues: Russian, Khanty
Language of subtitles: English
Awards(selection):
Best international documentary at the International Film Festival CORTOPTERE, Italy 2008
Best international documentary at the International Teheran Short Film Festival, Iran 2008
Prize of the Directorate of the SHAKEN STARS International Film Festival, Kazakhstan2009
Best short documentary at the International "Gold Panda" Awards, China 2009
Special Mention of International Jury at the Festival de Aguilar de Campoo, Spain 2009
Audience Award at the ESPIELLO International Film Festival , Spain 2010
Prize of the Jury at the "Toamna la Voronet" International Film Festival, Romania 2010
Special Mention of the International Jury at the InkaFest Mountain Film Festival, Peru 2010
Special Mention for editing at the XIX International Festival of Ethnological Film, Serbia 2010
Grand prize at the XII "Finno-Ugric World" International Film Festival, Russia 2010