Czech Republic, 2010, 25 min
Martin Šmoldas
29.01.2011 16:10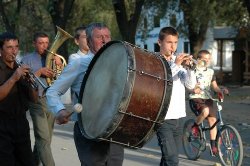 The compatriotic village of Holuboje was founded in the so called Bessarabia (part of today's Moldavia) by Czech colonists in 1864. Holuboj compatriots managed to preserve aspects of their language and folk culture, often long forgotten in the Czech Republic, in the manifold national variety of this region. The most extraordinary of all is the folk band which has continuously functioned here for incredible 146 years and which has various Czech songs in its repertoire.

Despite these folk singularities, local people are afflicted with the same problems as all the people of the isolated and poor Moldavia. The decline in economics, disintegration of agricultural co-operatives and everyday existential problems endanger the existence of this folk band. The author of the film introduces four protagonists, inhabitants of Holuboj, who provide an insight into the past and present lives of compatriots in Moldavia.

Director, production, camera, edit: Martin Šmoldas

Martin is a student of Social Anthropology at the University of Pardubice. He is interests in the field in Moldova.

Language of dialogues: Czech

Language of subtitles: No subtitles

Premiere!!!