France, 2012, 28 min
Maria José Pavlovic
26.01.2013 19:30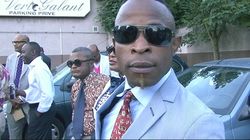 S.A.P.E is a acronyme for the Society of Ambience Makers and Elegant People. The followers of this movement are called "sapeurs"; men devoted to elegant dressing originally from the Congo-Brazzaville, West Africa. Part of a sapeur´s achievement is to settle in Paris, the fashion´s capital so there they can become an experimented, recognised sapeur. In Paris they are called "yayas" a lingala expression to name the elderly, those who deserve respect and recognition within the community; those who have made the journey of the S.A.P.E. Through the story of Fuluzioni Di Aluzioni, Annick Bertin "General Firenze" and Chardel Matsanga, this film tries to reveal the main aspects of this congolese practise.
Independent filmmaker and researcher, Maria José Pavlovic was born and raised in Santiago, Chile. She recently finished her studies in Visual Anthropology at the Granada Centre (University of Manchester, 2012). Since 2006, Maria José has worked and collaborated in different documentary films produced in Chile. Based in Paris, "The Yayas de L´Elégance (2012) is her first film. She is currently developing projects in the Congo - Brazaville, Paris and Ireland.
Director: María Chosé Pavlovic
Production:María Chosé Pavlovic, Frédéric Thooris and The Granada Centre for Visual Anthropology (University of Manchester)
Language of dialogues:French
Language of subtitles: English, Czech