Italy, 2011, 52 min
Claudia Palazzi & Clio Sozzani
26.01.2013 14:00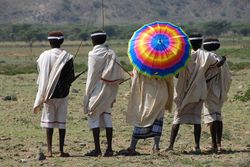 Sometimes apparently normal people hide extraordinary and important stories. Roba comes from a remote pastoralist Ethiopian village. Belonging to the Karrayu clan, he grew up among the herders and his path of life was a matter of tradition. However, his passion for school will conduct him through a series of amazing events: the escape to the Capital city, the family conflict, the internal doubts and the hope for reconciliation, a terrible drought in the Karrayu lands, the loneliness of the city life, an unexpected journey to Italy, the death of his brother killed in an ethnic conflict, and finally the coronation of a big dream.
Jeans and Martó reveals the complexity of the "Ethiopia of the new milenium", constricted between modernity and tradition, pastoralist and urban lifestyle, old and new generations who struggle to adapt to such a rapid transformation. Roba´s unique and privileged point of view provides a new way of considering a very burning issue of present time, namely how tradition and modernity could possibly work together in building a better future.
Claudia Palazzi - sociologist and film maker. In 2005 she directed two documentaries ("In Benito´s land. Predappio" and "Memories of Crespi d´Adda"), selected in internationl festivals. Since 2006, she follows the scriptwriting of various projects for different Italian production companies. She also collaborates in cinema production such as Lucky red and janus international. In 2008 she started writing and working as Director Assistant in several documentary series focused on modern society and culure, broadcasted in main National Channels.
Clio Sozzani - Anthropologist and film maker. Since 2005 she is working as film director and scripwriter for different international production companies and no profit organization, mainly in Italy, Senegal and Ethiopia. Together with Claudia Palazzi, she wrote the script of a 52 minute film on women´s entrepreneurship, winner of the funding of the Italian Film Commission and directed two 26 minutes social documentaries that participated at Leipzig, milan, Rome, Venice Film Festivals. She is now developing web documentary for Slow Food.
Director: Claudia Palazzi & Clio Sozzani
Language of dialogues:Amharis/ Omoro
Language of subtitles: English, Czech
Launching of film, awards:
Awarded best documentary at CINESTRAT 2011 in Spain
Winner of the "Babel" and "Trenord" Prizes and of a Special Mention at the XXII African, Asian and Latin American Film festival in Milan (2012)