Cameroon, Germany, 2012, 62 min
Samuel Loe
25.01.2013 18:20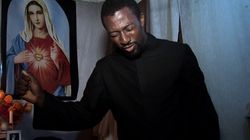 Samuel was born and raised in Cameroon. He grew up in a society where everyone believed in the existence of witchcraft. Every tragedy and evil was caused by a supernatural being. His childhood was marked by belief in witchcraft and its practices. After five years of studying film production abroad, he returned to his country, this time not to visit his family but to unveil the mysteries and secrets of witchcraft and his childhood nightmares.
Samuel Loe was born in Bafoussam in Cameroon. He studies Media production Master in the University Hochschule Ostwestfalen-Lippe in Lemgo (Germany).
Director: Samuel Loe
Language of dialogues: French
Language of subtitles: English, Czech
Launching of film:
The 12th Gottingen International ethnographic Film Festival (Germany)
International festival of Ethnological Film in Belgrade (Serbia)
EthnoFilm fest (Munch - Germany)
Festival of Visual Anthropology in Poland