Spain, 2012, 56 min
Javier Arcos & Javier Jarillo
25.01.2013 21:40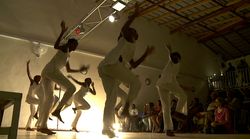 In Velingara, southern Senegal a group of teeneagers struggle to do theater. To go on stage and be part of the trip that will take them through the region of Casamance, they must fight against their fears and their own families, choosing between tradition and modernity.
Javier Arcos, doctor and filmmaker, is actually combining his work as a filmmaker and as a doctor in health humanitarian emergencies. In 2007 he created the company Synechia Film with Javier Jarillo, filmmaker and producer, specialized in Social Cinema. "Shame in the time of Cholera" is their first feature film. During 2011 they have been working in four documentaries of the International Library of Huanitarian Medicine (in collaboration with World Health Association and the Spanish Agency of Cooperation).
Director: Javier Arios & Javier Jarillo
Production: Sinechia Films
Language of dialogues: French, wolof & poulard
Language of subtitles: English, Czech
Launching of Film:
Festival Internacional de Cine y Video Alternativo y Comunitario "Ojo al Sancocho" (Columbia)
Festival Di Cinema Africand Di verona (Italy)
Montana Cine International Film fetsival (United States)