ČR / PL, 2011, 8 min
Milan Durňák
26.01.2013 17:05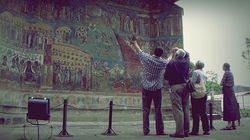 Voroneț is one of the best known and the most visited monastery`s in Romania, especially because of church Saint George. On the wall, it has preserved a lot of frescos (murals) from the 15th century with intensive and not so faded colors. Cultural importance of this place has been appreciated by UNESCO as well, when it has added it to its heritage list. The surrealistic image is created by 6 days observations of the place of monastery and surrounded market place, which are crossed real and symbolic ways of people. Intensive perception of the most fascinating mural of Last Judgement creates mosaic confrontation with the mirror of ideas, visions, watched and listened. Voroneț symbolically conceptualizes the way of life, we believe in.

Milan Durňak is a PhD student of Institute of ethnology (Faculty of Arts, Charles University in Prague). He concentrates on the problematic of visual ethnography, especially on the possibilities and limits of anthropological film. He has debuted with Christos Voskres /2007/. ANTROPOFEST 2012 has presented his long-term anthropological trilogy Tumenge /2012/, which was released at ETNOFILM ČADCA 2012, festival of documentary films with ethnological and cultural anthropological themes.
Direction: Milan Durňák
Production: Uniwersytet Szczecinski, Polsko / Erasmus Intensive Programme 2011: "Polish settlements in Europe. Anthropological Visualisations of Cultural Phenomena" / Coordinator Dr. Natalia Maksymowicz, Uniwersytet Szczecinski/
Language of dialogues: -
Language of subtitles: -
PREMIERE!!!