Denmark, 2012, 5 min
Peter I. Crawford
25.01.2013 19:35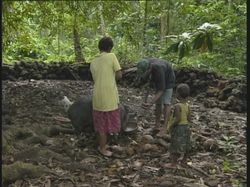 In some of the diverse cultures of the pacific, especially in Melanesia, the pig is the most important domesticated animal. It is predominantly used for ceremonial purposes such as in funerals, weddings and age-set rituals. Several of the films in the long-term Reef islands Ethnographic Film project thus show the killing of pigs in conjunction with such events, at times giving a some what disturbing impression of human-animal relationships, particularly for audiences uses to see meat only wrapped in cellophane at the local supermarket. In this short film a mummy, daddy, and their little son go out to feed their pigs, conveying the impression of an altogether different human-animal relationship, one of tenderness, care, and love, whilst also showing how children learn through awareness of animals nature and technology.
Peter I. Crawford is a social anthropologist, film-maker and publisher. He has been an active member of the Nordic Anthropological Film Association (NAFA) since the late 1970s. He has written extensively on visual anthropology and ethnographic film-making, and has wide experience in teaching the subject both theoretically and practically. He is currently Professor at the Visual Anthropology Programme at the University of Tromso, Norway and visiting professor at the visual anthropology programme at the Free University in Berlin. Together with Dr. Jens Pinholt of Aarhus University he has led the Reef Islands Ethnographic Film project (Solomon Islands) since 1994 and is producing a number of ethnographic films based on material recorded in 1994, 1996, 2000, 2005 and 2010. His publishing company, Intervention Press (www.intervention.dk), has published numerous book on anthropology and visual anthropology. He lives in Aarhus, Denmark.
Director: Peter I. Crawford
Production: Interventinon Press
Language of dialogues:Aiwo (Reef Islands)
Language of subtitles: English, Czech
Launching of film,awards:
The 32 NAFA International Ethnographic Film Festival, Tromse, Norway, 23-26 August 2012