Německo, 2013, 38 min
M. Gruber
31.01.2015 21:40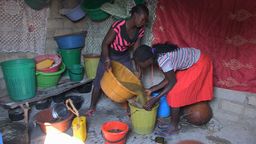 The film "Honey" depicts the production of honey from wild bees as well as different aspects of honey consumption in the highlands of central Angola where honey is an important means of subsistence and cash income. The film was conceived and shot by a group of villagers from the Cusseque area. "Honey" is the outcome of participatory film workshop organised by Martin Gruber and Miquel Hilario for the interdisciplinary research project "The Future Okavango", investigating sustainable resource management in the Okavango Basin.
Director: Martin Gruber
Production: Martin Gruber
Camera: A.Antónia, M. Gruber, M.S. Hilario, H.B. Job, F. Jose, E. Quintas
Script:A.Antónia, M. Gruber, M.S. Hilario, H.B. Job, F. Jose, E. Quintas
Edit: M. Gruber, M.S. Hilario, M.P. d Santos
Language of dialogues: Chokwe, Portuguese
Language of subtitles: English, Portuguese, Czech
Martin Gruber studied Visual Anthropology at Goldsmiths College, London and Social Anthropology at Hamburg University. He works as an ethnographic researcher and filmmaker and teaches visual anthropology. Martin recently completed a PhD on participatory ethnographic filmmaking at the Department of Anthropology and Cultural Studies, University of Bremen.
Festivals (selection):
Days of Ethnographic Cinema, Moscow
EASA Conference Film Program, Tallin, Estonsko
NAFA Film Festival, Isafjordur, Iceland
Days of Ethnographic Film, Bremen, Germany