Dánsko, 2007, 30 min
Ch. Fentz
30.01.2015 19:00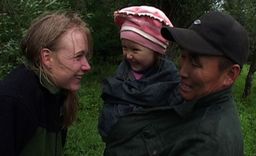 Three-year-old Jasmin is having her first haircut. Danish Benedikte has a daughter with Nazyn from Tuva in Siberia. She has chosen to follow the traditions of Nazyn's shamanistic culture, and therefore Jasmin is now going to visit her dad in Tuva in order to follow the local tradition for three-year-old children: a ritual haircut. As a Danish mum, what elements to choose from the dad's nomadic culture? We follow the mother and daughter on their family visit to faraway Tuva, six time zones away from Denmark.
Director: Christine Fentz
Production: Ch. Fentz, co-produced Dánská národní televize a Turbinefilm
Camera: Kirsten Simonsen
Script Ch. Fentz, B. Moeller Kristensen
Edit: Formosa Film
Language of dialogues: Danish, Russian, Tuvan
Language of subtitles: English, Czech

Christine Fentz, MA in Dramaturgy, artistic director of Secret Hotel, creating participatory performing arts relating to landscapes.
Benedikte Moeller Kristensen, PhD student in anthropology, specializing in shamanistic practices and landscape relations among the reindeer nomads of NW-Mongolia and Tuva.
The movie was repetetivly shown at Danish National Television and on Swedish and Norwegian television. Also it has been shown on some film festivals in the Nordic countries.