Česká republika, 2014, 63 min
L.Šavelková, T.Petráň, M.Durňak
29.01.2015 20:05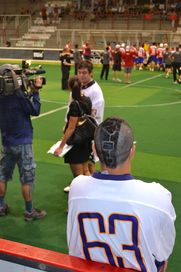 The film is about the lacrosse, and its importance for the Haudenosaunee people (represented by the Iroquois Nationals), and for the Czech people (represented by the lacrosse organisations, scouts, and woodcrafters). In 2011, the World Indoor Lacrosse Championship was held in Prague, the Czech Republic. It was the first time when the Iroquois National lacrosse men's team visited the Czech Republic, using their Haudenosaunee passports.
However, the film is not focused only on reporting of the Championship agenda. Furthermore, it highlights the essential spiritual, political and sport aspects of the lacrosse for the Haudenosaunne and Czech communities. It also explains the formation of this originally Native American game in the Central Europe, including the hint of political issues in the former communist Czechoslovakia.
PREMIERE!
Directors: L.Šavelková, T. Petráň, M. Durňak
Production Cinepoint
Camera: T.Petráň, M.Durňak, V. Barák, P.Řezáč, P. Záruba
Script: L.Šavelková
Edit: T.Petráň, M.Durňak
Language of dialogues: Czech, English
Langue of subtitles: Czech, English
Lívia Šavelková – graduated from Charles University in Prague in ethnology and journalism at the Faculty of Arts and the Faculty of Social Sciences. She is fond of Lacrosse and since 2011 she and her colleagues have been revealing various forms and meanings of the lacrosse in different parts of the world. She works at the Faculty of Arts, University of Pardubice, Czech Republic.
Tomáš Petráň – a filmmaker, teacher and also a farmer. He graduated from and also teaches at The Film and TV School of Academy of Performing Arts in Prague. He has produced a lot of documentary films, articles and also a book related to visual anthropology. He developed visual anthropology at the Department of Social Sciences at University of Pardubice between 2009 and 2013.
Milan Durňak – "an ethnologist with a camera in his hands". He graduated from Charles University in Prague in ethnology at the Faculty of Arts. His thesis was based on film trilogy TUMENGE/screened at Antropofest and Ethnofilm Čadca 2012/. He is a PhD candidate and continues in experimenting with visual anthropology.