INTRODUCTION
Antropofest is an international festival of movies with social anthropological themes.

Festival is held by eponymous NGO, formed by social anthropology graduates. The goal of the festival is to introduce the general audience to the movies that could also be one of the important study instruments of our domain. These specific documents will allow us to learn about the life of various human communities, social groups or individuals around the world.

During the festival we will hold debates on current projections and there will be also other accompanying programme.

We are looking forward to you!
NEWS
We are pleasured that we can screen together with Festival of the Freedom these movies: Be Jam Be, Grab nad run and Across Gender. We screen in several high schools across whole Czech Republic.
Freedom for ever!!
Call for films for Antropofest 2020 is not open. Thank you for understanding.
We would like to invite you to 3rd Anthropological Evening at Ponrepo cinema. It will take place on 16 MAY from 6.PM. You can watch Putování po Nepálu (1969) from National Film Archive and DUST (2016) from Antropofest archive. Our guest is Zdenek Stipl from Department of South and Central Asia, Charles University.
We would like to invite you to the second ECHOS OF ANTROPOFEST to Pardubice. The Echoes will take place 13MAY from 3 p.m. We will screen Be Jam Be, Říkejte mi strýcu, Remake of a Summer, Revenir, Shame and Perversity, and The Sisterhood: Visits of my friends.
SCHEDULE
24.01.2019 : Galerie Lucerna
25.01.2019 : Kino NFA Ponrepo
26.01.2019 : Kino NFA Ponrepo
MOVIES
Belgie, 2017, 85 min
Grace Winter, Luc Plantier
26.01.2019 21:00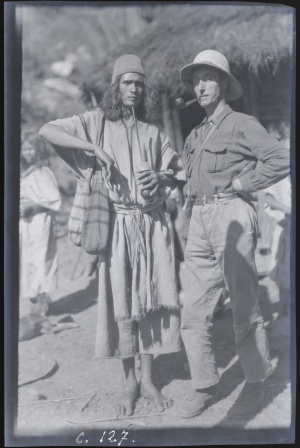 The film invites us to follow the strange path taken by the Marquis de Wavrin, the first white man to film, at the end of the 1920s, the "head shrinking" Shuar Indians. Over 6000 meters of footage filmed between 1920 and 1938 led to his becoming a renowned explorer and ethnographer. Thanks to the safeguarding of this film heritage by the Cinémathèque (the Royal Belgian Film Archive), we are able to learn about the Marquis de Wavrin, defender and friend of the Indians of the Upper - Amazon, and a true filmmaker at heart.

After studying Art History and Social Anthropology at ULB, Grace Winter continued her studies at the Sorbonne for one year, obtaining a mandate from the CNRS (French National Center for Scientific Research) to produce ethnological works in Mali and the Ivory Coast. In 1979, she joined the distribution company Progrès Films, and went on to become a director of the company for 18 years. In 2002, following the closure of Progrès Films, she returned to the Cinémathèque (the Royal Belgian Film Archive) as a researcher
Luc Plantier studied Language Sciences at the University of Avignon, then went on to complete a Masters in Cinema in Lyon. Moving on from theory to practice, he obtained a post-graduate qualification in editing from IAD (The Broadcasting Arts Institution) in Louvain-La-Neuve.

Director: Grace Winter, Luc Plantier
Production: Image Création
Camera: Marquis de Wavrin, Dominique Henry
Script: Grace Winter
Edit: Luc Plantier

Language of dialogues: French
Language of subtitles: English, Czech
trailer: https://vimeo.com/308442558
Francie, 2017, 96 min
Séverine Enjolras, Magali Bragard
24.01.2019 18:15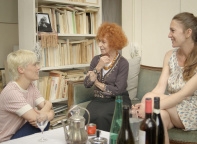 During a summer in Paris and its suburbs, two young directors attempt a remake of "Chroniques d'un été", fifty years after the cult film of Rouch and Morin. An offbeat portrait of nowday's youth, as a mirror image of the 1960s, while questions of the "cinéma vérité" are revisited with fancy.

Séverine Enjolras and Magali Bragard are both holders of a DEA in visual anthropology obtained in 2003 in Paris 10 - Nanterre, under the direction of Jean Rouch. In 2009 they co-directed a short documentary film, "Dombes", on the study and management of a health risk. They are both teachers in documentary cinema, they created and organized in 2007 and 2008 a festival of films in the West Bank. Séverine Enjolras has also directed several documentaries, institutional films and films around citizen consultation workshops. Magali Bragard, in addition to his work of realization, is also a stage and press photographer.

Director, camera, script: Séverine Enjorlas, Magali Bragard
Production: Survivance
Edit: Magali Bragard, Thomas Laufer

Language of dialogues: French
Language of subtitles: English

Award of Excellence in Visual Anthropology, Ethnocineca, Vienna, Austria

Authors are guests of Gellner Seminar which takes place after screening of theirs movie.


Trailer: https://vimeo.com/237268706
Česká republika, 2018, 35 min
Vít Smrčka
26.01.2019 16:35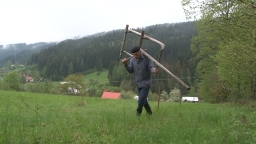 The film depicts the vanishing elements of traditional folk culture in Wallachia. A record of wood transportation on a sledge in the Beskydy mountains is a very valuable part of the film. The film also tells the story of a 96-year-old man who represents the vanishing "old" Wallachia while living in the current technological era.


Vít Smrčka, the film's director, graduated in journalism and ethnography. He is the author of a film on hauling wood on sledge in the Krkonoše mountains and also published a book on the history of ethnography. The co-author and cinematographer of the film Aleš Smrčka is also an ethnographer.

Director: Vít Smrčka
Camera: Aleš Smrčka
Production, script: Vít and Aleš Smrčka
Edit: Miloslav Liška

Language of dialogues: Czech
Language of subtitles: none
PARTNERS
Partners of AntropoFEST are
Thank you!
CONTACT
Don't hesitate and ask us or just send your movie (with apllication form) on email: [email protected]