Germany, USA, 2016, 52 min
M. Gruber, F. Seidel
28.01.2017 17:40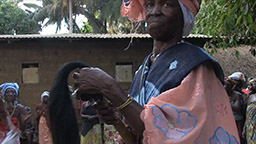 An anthropologist and a linguist from Germany are trying to understand a ritual taking place in a small village on the coast of Guinea, West Africa. They are told that two seemingly conflicting ceremonies take place during a four-day event commemorating a recently deceased woman: A Muslim celebration of the 40th day after death conducted by a local Imam and the Mkisaata ritual, performed by the members of a Nalu female secret society in honour of its deceased member. As different male parties involved tell the filmmakers their respective vision of the events, the researchers get increasingly drawn into the ritual by the women of the secret society and become part of the performance. "Between Islam and the Sacred Forest" shows the possibilities and impossibilities of audio-visual ethnography.
Martin Gruber works as a researcher and lecturer at the Department of Anthropology and Cultural Studies at the University of Bremen. Martin studied Visual Anthropology at Goldsmiths College, London and Social Anthropology at Hamburg University. He worked as a freelance filmmaker and researcher before completing a PhD on Participatory Ethnographic Filmmaking" in 2013. Martin's research interests are audio-visual research, ethnographic film, collaborative research, urban anthropology, political ecology and human-animal relationships with a focus on bees. Martin has conducted long-term ethnographic research in West Africa, Southern Africa, Bremen and Hamburg.
Frank Seidel studied African Studies, Cultural Anthropology and Political Science at the University of Cologne, Germany. After completing his Ph.D. in 2008 and he worked as a Post-Doc and Visiting Researcher at the University of Florida from 2010 – 2015. Frank is an established fieldworker and his research methods use the full digital array currently available, namely video, audio, imagery, as well as the digital collation of various types of transcriptions. His approach to language research includes leading, training, and/or collaborating with a team of language community members to collect and manage audio-visual language material. Consequently, he now curates two digital language archives of two endangered languages spoken on the coast of Guinea, West Africa.

Director, Script, Edit: M. Gruber, F. Seidel
Production: M. Gruber
WORLD PREMIERE

Language of dialogues: Nalu Language
Language of Subtitles: English, Czech