Česká republika, 2011, 99 min
Milan Durňak, Magdalena Koháková
28.01.2012 17:10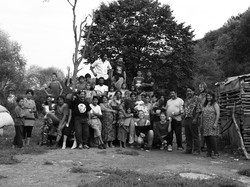 What should antropological films be like? How to come to terms with alternating view of the world and with stereotypes in us? In a 3-year span, this issue kept busy an execution team around Milan Durňak who went back to his home-village to capture life of Roma people together with their Ruthenian neighbours. Every stay in the Roma colony brought one episode of a film which captures everyday life, tries to describe problems which trouble them and constantly strive to jump over their own shadows. The spectator has a chance to encounter a story in a social-cummunity centre with a hard-working mayor and festivals in the village and think about the worries and merriments of one Roma colony.
Milan Durňak graduated at Charles Univerity in Prague, main field ethnology. Currently he is working at the University as a Phd student. In his studies, he mainly deals with visual anthropology and creation of antropological films.
Director: Milan Durňak
Production: Milan Durňak, Magdalena Koháková
Language of dialogues: Slovakian, Czech, Rusyn language, Gypsy language
Language of subtitles: Slovakian