Hungary, 2011, 8 min
H. Synková, R. K. Ranjan, J.V. Asis
28.01.2012 14:45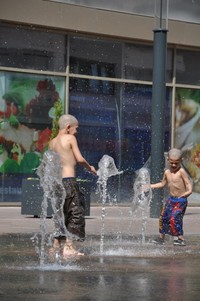 The process of rehabilitation and gentrification in the Eight District of Budapest, Hungary has led to the shrinkage of space especially for children's play. Set against the backdrop of the world famous novel The Paul Street Boys (Molnár Ferenc, 1906) this film depicts the widening gap between social classes and the reconstruction of the ideas of play, security and leisure.
Ram Krishna Ranjan is a Delhi based freelance documentary filmmaker. He completed masters in Media and Cultural Studies. Currently he is working as a consultant for the Digital Empowerment Foundation, where he documents development projects across India.
Jonnabelle V. Asis is a Erasmus Mundus doctoral exchange student in the Universita' degli Studi di Padova and a Ph.D. Sociology student from the University of the Philippines Diliman. She was assistant professor of the Department of Sociology, University of the Philippines Diliman, where she taught courses on Sociology of Mass Communication and Visual Sociology.
Hana Synková is an assistant professor at the department of Social Sciences at Pardubice University and research coordinator at the Agency for Social Inclusion of the Office of the Government of the Czech Republic. Her research focuses on institutions active in "social integration".
Directors: H. Synková, R.K. Ranjan, J.V. Asis
Production: Cenral European Univesity, Hungary
Language of dialogues: Hungarian, English
Language of subtitles: English