Hungary, 2011, 8 min
T.Hirt, S.G.Lutherová, S.Novac, K.Varsányi
28.01.2012 15:15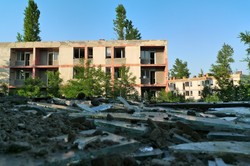 After the end of the Cold War, a lot of army bases in the East Europe became abandoned. Soldiers and their families have left, roaring of fighters has died away, univited guests stopped comming to public places. How do inhabitants of the formerly adjacent villages feel about the stay of Russian soldiers twenty years later?
A short documentary Cold War Neighbours raises a question of how global events are reflected in local conditions. People, who live in the neighbourhood of a huge army base abandoned by the invaders in Hungarian Kunmadarás, talk about what the stay of the soldiers meant for them. And what their absence means for them today.
The film originated in the scope of a workshop "Anthropological Filmmaking" organised at Central European University in summer 2011.
The authors are social anthropologists who are studying or working at various universities in Central Europe. Their common interest is visual anthropology.
Directors: Tomáš Hirt (Czech Republic),Soňa G. Lutherová (Slovak Republic),Sergiu Novac (Romania),Kata Varsányi (Hungary)
Production:Central European University, Maďarsko
Language of dialogues: Hungarian
Language of subtitles: English