The Netherlands, 2011, 29 min
Fedor Ikelaar
28.01.2012 16:15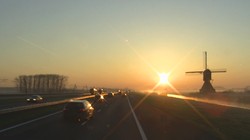 The road, to most of us simply a path leading to a destination, but to many truck drivers the road itself is their destination, their goal and their home. To them the road is a cold-hearted mistress that dominates their lives. In this documentary three of these truck drivers are followed on that road as they passionately explain what drew them to truck driving and what is so extraordinary about their jobs. They talk openly and reflectively about the thoughts, hopes, dreams and aspirations that keep them going and help them position this demanding job into their lives. Through both humour and sorrow surprising sides and depths of these seemingly tough men with their apparent uncomplicated lives are disclosed.
At the age of 27 Fedor abandoned a successful IT career to study anthropology at the VU University in Amsterdam. Anthropology became the ideal field to explore not only his interest in culture, development and conflict, but also to combine these with his passion for filmmaking. Though his own university has no visual ethnography in its program, he spent a lot of time exploring this field on his own or with some likeminded students. With these students he also started to make short ethnographic documentaries and a full length ethnographic production titled "The Challenge." This experience led up to "What Keeps Them Going", his first solo production. He recently graduated and has taken on a research position at the municipality of Amsterdam, he does not intend to abandon documentary filmmaking as he intends to do projects on the side to continue developing both his skills and style.
Director and production: Fedor Ikelaar
Language of dialogues: Dutch
Language of subtitles: English
Lauching of movie:
Athens Ethnographic Film Festival