Poland, 2011, 45 min
Maciej Eichelberger, Lukasz Kaminski
27.01.2012 20:10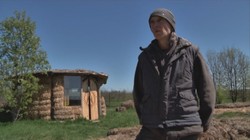 The filmmakers follow various alternative forms of socail thought, based on cooperation, openness and direct exchange of experience. They encounter on the various initiatives that seek to restore the dynamic exchange of people and culture. Dialoque with representatives and activists such as: open source trends, Permaculture, Qi gong, "Art exchange", "Food not bombs", presents a new from of "gift" meaning.
Maciej Eichelberger: Graduated from the academy of film and television in Warsaw, has studied anthropology at Warsaw University, author of the documentary and reports, permaculture activist.
Lukasz Kaminski: student of anthropology at Warsaw University, author of documentary film. He travels and writes.
Directiors and production: Maciej Eichelberger, Lukasz Kaminski
Language of dialogues: Polish, English
Language of subtitles: English, Polish, Czech
Lauching of movie:
"Eyes and Lenses" - 8th Ethnografic Film Review, Warsaw, 2011