Colombia, 2011, 28 min
Ben Cheetham
27.01.2012 18:45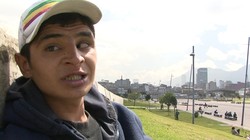 Walking through Bogotá it would be hard to ignore the overwhelming presence of those who call its streets home. Thousands of young people make up this sub-group of society, a legacy of decades of political instability. This film takes place in one of 26 houses set up by "the Institution for the Protection of Childhood and Adolescence" (IDIPRON) located in the centre of Bogotá.
Saliendo Adelante explores the life of José who, now in his early 20´s, has lived on the streets since the age of 6. José is now attempting to change his life´s trajectory by talking part in a programme of social rehabilitation offered by the institution. Through the film we are also introduced to the work of Orlando, a teacher at the Institution, and his efforts to offer those like José other ways of visualizing the world around them.
I have recently graduated from a Master´s programme in visual anthropology at Granada Centre for Visual Anthropology at the University of Manchester. This film was my graduation project, which I received a distinction for. On the course I made a number of other films and photography based projects, largely informed and inspired by the principles of observational cinema.
Director and production: Ben Cheetham
Language of dialogues: Spanish
Language of subtitles: English, Czech