USA, 2008, 6 min
Jonathan Taee
27.01.2012 18:05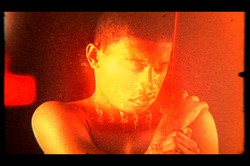 Maurice Merleau-Ponty was a French philosopher who died at the young age of 57 in 1961. His work on Phenomenology opened up a new realm in continental philosophy. He managedto get philosophers to think of the body as a required and fundamental element of existence, rather than a simple vessel that carries the mind. He understood the importance of its fleshy boundaries and its ability to perceive the world through a string of immediate moments. Hisphilosophies have gone on to shape and inform many social theories used in Anthropology.
The film explores the body and the way it experiences the world. Each frame represents a moment, the moment before the body's experiences are captured by the consciousness and given cultural or emotional meanings and interpretations. The body does not sense the world through 5 set senses, feeling, seeing, hearing, tasting and smelling. The raw body senses the world as one big sensing organ. It experiences the world in one immediate relationship of body to world. The body has a synaesthetic sense that operates below the consciousness, as one flesh. This sense speaks through the entire body, using every contour and curve to feel the world it moves through. The raw body is immediate in its experiencing of the world, it is fluid and conversational, ever reading, learning and changing to the world around it.
This film honours the work of Merleau-Ponty, and through the mediums of 16mm, high speed digital film and SLR still imaging, it pays homage our most sensuous and intimate relations to the world around us.
Jonathan is a currently conducting field work in Bhutan for his PhD in Social Anthropology at the University of Cambridge. His current research explores the integration of healthcare in Bhutan and its affects on patients' healing experiences.Concepts of body, experience and phenomenology have been a constant companion to his work, including the philosophies of Merleau-Ponty. This film was made at the University of Virginia while exploring the philosopher's ideas of flesh and experience as socially contingent phenomena.
Director and production: Jonathan Taee
Language of dialogues: none
Language of subtitles: none
Launching of movie:
Salmagundi Film Festival, University of Virginia, USA
Ivy Film Festival, USA