Česká republika, 2019, 30 min
Bohdan Heblík, Petr Hora
25.01.2019 18:00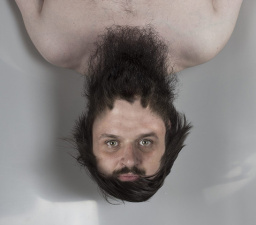 Ready-made poems from an email conversation with the A-team – opening of 10th edition of Antropofest.
Presentation: Bohdan Heblík, piano: Petr Hora
Ten Years of Antropofest, an International Film Festival about social and antropology. Ten posters (2010-2019) mapping the work of Bohdan Heblik, a freelance graphic designer under
www.kofila.com
. Ten years of creativity, failure and repetition. Ten experiments on visual language with the subject: the science of human. Ten shades of orange color.

Bohdan Heblík (* 1978) is a freelance graphic designer. He has been working with the A-Team for 10 years. He has participated in all competitions and won all prizes. However, not for the graphic design of Antropofest. He does not study. Portfolio available at www.kofila.com.

Petr Hora (* 1981) was born in Chrudim and studied organ and composition at the Conservatory in Teplice. He has not participated in any competitions or won any prizes. He has been working with Antropofest from its beginnings and created most of the musical backgrounds for the festival jingles. Since 2014, he has been studying composition at the Academy of Performing Arts under Luboš Mrkvička.