Česká republika, 2009, 37 min
Pavel Borecký
30.01.2010 17:00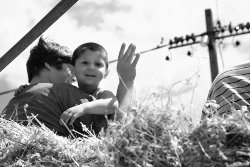 Documentary mosaic about Czech fellow-countrymen living in a small Serbien village. 90 years ago, family Frič desired a change. They left the rough life at mountainous Banat - the Southern promontory of Rumenien Karpats - and moved to more fertile lowlands stretching along impressive Danube. Soon the others followed.
Nowadays, melody after melody is wafting from Írovič's orchard. Their son is practicing playing the harmonica. Next competition is coming soon. What does his talent mean for the Czech minority?
Gaya Czechs are the last compact social group which settled down at Serbien Banat. Eventhough they do not need to drag themselves way up the hills to reach their fields, they remind to be a minority in comparison with pure Czech Gernik.
How has this change in the course of decades influenced upcoming generations?
Language of dialogues: Czech